AdventureCats.org Will Change Everything You Thought You Knew About Cats
Industry: Animals & Pets
New website for cat lovers and outdoor enthusiasts tells tales of hiking, surfing and sailing cats and offers tips to make your cat an adventurer
Atlanta (PRUnderground) October 22nd, 2015
When you think about going on a hike with your pet, you probably aren't thinking about your cat. But the new website AdventureCats.org wants to change that.
Created by outdoorsy cat lovers, Adventure Cats hopes to redefine what it means to be a cat —and a cat owner — with inspiring stories of thrill-seeking felines like Nanakuli, the one-eyed surfing cat in Hawaii; Gandalf, the Australian explorer; and Georgie, the seafaring cat that's sailed to more than 16 countries.
The site also offers information for pet owners interested in safely introducing their furry friend to a world of adventure with helpful articles and how-to guides on topics including leash training, essentials for camping with a cat, hiking tips and how to identify if your cat would be a good adventure cat.
The idea for the site came out of necessity, when Adventure Cat Co-Founder and Editor-in-chief Laura Moss was looking for tips on how to introduce her two cats to the great outdoors.
"I knew other people were taking their cats hiking, camping and kayaking. And I wanted tips to help train my two cats, but there wasn't a lot of information out there," said Moss.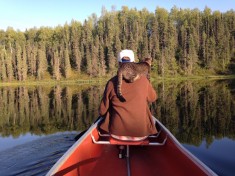 "That's why I decided to create Adventure Cats. I want to provide helpful information for pet owners who want to engage with their cats in nature, and I want to share inspiring cat tales to help break down negative stereotypes about cats and their owners."
Moss hopes that diminishing the negative stereotypes will help increase cat adoptions. More cats are euthanized in U.S. shelters —1.4 million annually, according to the ASPCA — than dogs, and part of the reason that number is so high is because of how we perceive cats and their owners. 
Earlier this year, a PetSmart Charities survey found that the majority of people described cats as "moody" and "aloof" and that 49 percent of people still buy into the "crazy cat lady" stereotype.
But when you see men and women hiking and camping and exploring the outdoors with their kitties, it changes how you think about cats.
"When you visit the site and read these incredible stories about cats and their owners, you'll see the lonely cat lady and aloof cat stereotypes don't hold up," said Jamie Brooks, Adventure Cats' Director of Communications.
"My favorite comments are the ones where people say, 'I didn't realize cats were so cool; I want to adopt a cat,'" said Moss. "That's the best possible reaction I could hope for, and I hope these people go down to their local shelter and do just that."
While Adventure Cats hopes to increase cat adoptions, the company also wants to support organizations that help shelter animals. A portion of all proceeds from the Adventure Cat Store will be donated to a non-profit. Donations through the rest of this year will go to Best Friends Animal Society®, the largest no-kill animal shelter in the country.
Visit AdventureCats.org to learn more.
About Adventure Cats
AdventureCats.org is the leading online destination for information on safely exploring the great outdoors with your feline friend. The site is run by a passionate group of outdoorsy cat lovers who want to challenge negative stereotypes about cats and their owners. Our mission is to share incredible stories of adventurous cats and provide resources to help outdoor enthusiasts train their own adventure cats in hopes of increasing the adoption of shelter cats.