About.com Announces Readers' Choice Award Winner for Best Ecard Site 2012
Industry: Ecommerce
Small boutique e-greetings site, VerveCards, successfully defends the title About.com Readers' Choice Award Winner for Best Ecard Site 2012
New York, NY (PRUnderground) April 12th, 2012
About.com announced that VerveCards.com has won for the second consecutive year its Readers' Choice Award for Best Ecard Site. The final tally revealed that VerveCards captured 97% of the votes, while finalists, American Greetings, Paperless Post, Rubber Chicken Cards, and Say it With Style Cards shared the remaining 3%.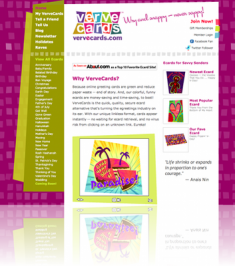 VerveCards.com is an award-winning boutique e-greetings site focused on a quick, quality, secure ecard experience. "We're all about glorious color, vibrant design, ingenious wit — and no scary links," elaborates VerveCards CEO/Co-Founder, Nancy Rielle.
VerveCards' e-greetings appear instantly in the recipient's email, and it's possible to send back a direct reply to the sender. This is not the norm, as most sites rely on no-reply notification emails with ecard retrieval links for card delivery.
In the past, industry giants that use retrieval links, such as BlueMountain, American Greetings and Hallmark, have fallen prey to link-related virus hoaxes. Falsified notification emails with rogue links have caused unsuspecting recipients to download malware and contract viruses.
"No links, no virus risk, no waiting — and, the recipient can respond to the sender simply by hitting Reply. These benefits, together with exceptional graphics and copy, are what set VerveCards apart," explains Rielle.
With VerveCards' unique link-less format, the ecard/virus risk association can be a thing of the past. VerveCards is on a mission to re-educate the public, so that possibility becomes a reality.
About VerveCards
VerveCards.com, an award-winning boutique e-greetings site, was founded in 2008 by cousins Nancy Rielle, a former copywriter, marketing consultant, and fine artist/painter, and Leigh Copin, a graphic designer. The site went live to the world in July 2009. When an ill-fated search for a decent ecard uncovered slim pickings, they created "wry and snappy – never sappy" ecards for savvy senders like themselves.
A flat annual fee for unlimited sending makes these eco-friendly, paper-free greetings a real money saver. And, set-it-then-forget-it future scheduling – or the freedom to send at the very last second offer flexible efficiency. Most importantly, important dates are never missed.
VerveCards.com is wholly owned and operated by VerveCards, LLC, a Florida company based in West Palm Beach, FL with an office in Brooklyn, NY. For more information, please visit www.VerveCards.com.