A Home-Cooked Meal is Where the Heart is On Valentine's Day, Says Chef Shehu Fitzgerald
Industry: Food and Drink
Renowned Chef Offers Tips on How to Bring a Romantic Dinner for Two to Your Kitchen
New York, N.Y. (PRUnderground) February 13th, 2015
Valentine's Day is fast approaching, and nothing says "I love you" like a delicious home-cooked meal. Renowned Celebrity Chef Shehu Fitzgerald – featured on ABC's "The Taste" and The Food Network's "Chopped" – can help couples prepare restaurant-quality meals from their own kitchens with his highly sought-after recipes and cooking tips.
"This Valentine's Day, turn up the romance and have more fun by cooking as a couple," said New York City native Chef Shehu Fitzgerald.  "Cooking together will not only spur new conversation and create wonderful new memories, but couples who learn together – such as preparing new recipes – connect deeper."
Here, Chef Shehu aims one of Cupid's arrows at these low-cost, high in taste Valentine's Day ideas:
Add Some Candlelight: Set the mood with long-stemmed, unscented candles.
Take a Plunge with a Seafood Entrée: Fish, lobster, shrimp, oysters and scallops are very popular dishes on Valentine's Day at most upscale restaurants.  This is because seafood has a well-known reputation of being a natural aphrodisiac.
Prepare Fondue for Two: Fondue is an excellent choice for a memorable dinner event.  In this instance, couples can relax and while intimately feeding each other savory or sweet fondues.
"Wine Down" with Your Partner: It is always romantic to share a bottle of wine with your significant other on Valentine's Day. However, it is also equally important to properly pair wine with the right food to truly intensify the enjoyment of eating.  For example, grilled or pan-fried salmon pairs well with Sauvignon Blanc.
Make Food Tastier with Music – The right background music can definitely enhance one's dining experience.  Here's a great link of some timeless love songs.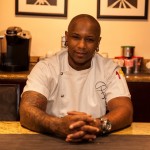 Chef Shehu has posted some of his popular Valentine's Day recipes – such as Chile Lime Salmon, Mixed Green Salad with Tomatoes and Bacon, Aged Cheddar Fondue and Vanilla Pound Cake – on his Website, chefshehu.com.  He will be also post additional recipes and drink ideas so be sure to check his Website often.
About Chef Shehu Fitzgerald
Shehu Fitzgerald is a New York City-based, nationally renowned chef who is known for creating enticing variations of classic American, Asian, Latin, French, Italian and Caribbean cuisine. As a result of his extensive intercontinental culinary training and 20 years of work experience at acclaimed resorts, Chef Shehu has been able to take some of the world's favorite recipes and infuse them with exciting new flavors. His talents were showcased on the Food Network's highly popular "Chopped" program, where he won the show's national competition. Chef Shehu has also recently appeared on "The Taste," an American cooking-themed reality competition series on the ABC TV network. In 2014, Chef Shehu launched Chef Shehu's Spice Blends™, which is a must-have addition for any home or commercial kitchen. These products enhance the flavor of any recipe, including meats, vegetables and side dishes. There are currently six spices in his line – #21, #107, #709, #35, #49 and #7 – and they are all currently available for purchase at chefshehu.com. Chef Shehu's Spice Blends™ will also launch in the retail market in Summer, 2015.