A "Delivery Drone" That Is A Reality Now, UAVDirect's "Defibrillator & Drug Drop" Drone
Industry: Technology
A real "delivery drone"-- Texas company successfully demonstrated a police search drone that drops drugs, defibrillator or first aid supplies to victims.
Austin, Texas, USA (PRUnderground) February 9th, 2015
UAVDirect of Liberty Hill, Texas successfully located a simulated accident victim by drone using an onboard infrared camera– and then immediately dropped the victim potentially lifesaving supplies.
"The payload is around 5 pounds and it could be almost anything– lifesaving drugs, a defibrillator, cell phone, first aid supplies, anything a stranded victim might need pending actual rescue," said Eric Davis, Technology Manager of UAVDirect.
The aircraft features a heat seeking infrared camera for locating the victim and a second downward facing "reference camera" to ensure the "drop" is just next to victim, not directly on top of them.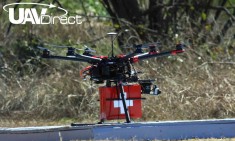 "It could be very useful for people trapped on ski lifts, tramways or even amusement park rides, not to mention mountainous areas where it may take many hours for actual rescue," said Mr. Davis.
The search and rescue drone is available from UAVDirect at price under $10,000.
About UAVDirect
UAVDirect is America's number one seller of multirotor drones, including aerial photography drones, police drones, delivery drones, agricultural drones, aerial mapping drones, DJI Inspire 1 drones, DJI Phantom drones and specialized application UAV's (unmanned aerial vehicles). UAVDirect repairs and rebuilds crashed drones. UAVDirect has a dedicated subsidiary– DroneDoctor. Drone Doctor is America's fasted and best drone repair service.