365ezone.com Integrates RankPay cPanel Plugin To Offer Customers Affordable SEO Services
Industry: SEO
365ezone.com has partnered with RankPay to offer customers an easy way to see higher rankings in Google using RankPay's results-based SEO services.
Los Angeles, CA (PRUnderground) May 26th, 2015
365ezone.com has recently partnered with RankPay to offer their customers an easy way to see higher rankings in Google using a cPanel plugin that integrates with RankPay's pay for performance SEO services.
Building a business online is no easy task. Most small business owners are faced with two pressing issues: lack of time and lack of resources.
Reliable hosting is only the beginning to creating a successful online presence. You still need people to discover your content. Without knowing how to optimize your website, you stand very little chance of getting noticed in Google.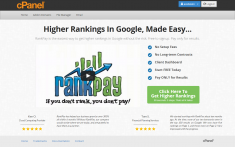 RankPay's SEO service is a game-changer for the SEO industry as it takes a completely new take on a service that is typically billed without guaranteeing results. While no company can guarantee results in Google, the philosophy behind RankPay's performance-based pricing model is that SEO companies should have as much "skin in the game" as their customers.
RankPay customers pay for results, nothing else.
Typical SEO pricing falls into three categories:
Hourly SEO pricing: A recent study by Moz found that most SEO consultants charge anywhere from $76 – $200/hr.
Project-based SEO pricing: This type of pricing was found to be the most popular, with prices ranging from $1,000 – $7,500.
Monthly retainer SEO pricing: There was much more distribution of price among retainer services. The two most common were $251-$500/month (13.8%) and $2,501-$5,000/month (11.3%).
The problem with all of these pricing structures is none guarantee results or give any type of measure of performance that at the very least show that results will be gained. The reality is that most SEO companies encourage clients to stay on for a 6-month retainer and if results don't show up after six months a litany of excuses (algorithm changes, stiff competition, etc) get added to the mix.
Pay for performance SEO pricing benefits the consumer far more. In a sense, results are guaranteed. And if they're not gained, then you're not billed. This type of pricing structure gives consumers confidence and allows the SEO company and its clients to form a true partnership — both must succeed to be successful.
"We are committed to the success of our customers", says Sumit Pradhan, CEO of 365ezone.com. "We provide a reliable hosting platform for their online business, so it made perfect sense to partner with a company that can help our customers achieve their goals. With RankPay, they can do just that."
365ezone.com customers receive a $50 account credit and free on-page SEO optimization when they sign up with RankPay.
To learn more about each company, visit them online at 365ezone.com and rankpay.com.
About RankPay
RankPay is the leader in results-based SEO services, offering customers a no-risk way to start ranking their website today. The "rank now, pay later" mantra means small business owners only pay for results, nothing else. Sign up today for free!