2nd Annual Pre-Labor Day Weekend Experience hosted by VH1's Love and Hip Hop Cyn Santana
Industry: Marketing
2nd Annual Pre-Labor Day Weekend Experience including Celebrity All White Charity Fashion Show & Beauty Brunch benefiting Suicide Awareness
Houston, TX (PRUnderground) July 18th, 2015
LaToya Hurley of Innovating Marketing & Management (IMM), La Bella Elise and Swaggacity.com introduce the "Pre Labor Day Weekend Experience" starting on Saturday August 29th 2015, with the Women's Empowerment Brunch and Launch Party for Oxygen Network's Bad Girls Club member Aysia Garza's online boutique "Inside my Look." The Brunch will take place at Davis Street Restaurant located at 5925 Almeda Rd Houston, TX 77004 from 11AM-1:30PM and will include a VIP Meet & Greet with Cyn Santana, exclusive shopping experience & styling session with "Inside My Look," shopping and Panel Discussion on Business & Branding.
Speakers will include CEO and Founder LaToya Hurley of Innovating Marketing & Management, Jeanette Huff, Salon Owner /Author & Cosmetology Instructor, Moni P, Celebrity Makeup Artist, and Monique Nelms Founder of A Daily Diva.  The weekend ends on Sunday August 30th 2015, with the 2nd Annual "All White" Pre-Labor Day Celebrity Charity Fashion Show at Mr. Peeples located at 1911 Bagby St Houston TX, 77002 from 9 PM-2 AM.
Last year's event took place at Hotel Magnolia in Downtown Houston in support of NFL player Antonio Smith's charity Little People with Big Challenges. The celebrity host was VH1's Love & Hip Hop personality Kimbella. There were three parties under one roof including a fashion show, pop up shop, and after party. The event included 5 media outlets: Hip Hop Weekly and Houston Style Magazine, 9 Sponsors, and over 250 people in attendance.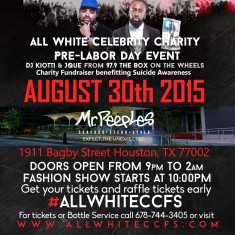 The 2015 Pre-Labor Day Experience will introduce the same elements with fashion being highlighted. The Fashion Show will premiere looks from line Nu by Cyn Santana, Sexy lingerie from La Bella Elise, Oxygen Network's Bad Girls Club Aysia Garza's online boutique Inside My Look, Pardon My Fash-Uhn, Silent Reign, LuvXoxo Boutique, Bawter Bowties, Sundaze Maze & Kandi Kinis, as well as the team will sponsor 1 aspiring designer to showcase their fashion alongside established brands. This year's sponsors include ALG Media, Sweet Reis Cookies & Confections, Koffi's Jello Bar, Ivy Leaf Travel, Tailor Marie Designs, Cierra De'Chaun Wardrobe Stylist, Sensual Sensuous, 20.10 Media and more. The event will be hosted at Mr. Peeples in Houston. If you would like to participate on the event as a designer, sponsor, secure a vendor space or want more information about the event visit www.allwhiteccfs.com
About Innovating Marketing & Management
The firm has a consistent track record of producing sound results based on the client's objectives. With the firms intensive knowledge of the market we are able to formulate a plan relevant to achieving your desired results. Our distinguishing integration of PR, SEO and social media marketing mix helps provide a competitive edge to the client.