2 Million Facebook Fans Prompt Special Porsche Cayman S in Celebration
Industry: Automotive
This month Porsche, the German of luxury car manufacturer is celebrating a landmark achievement by reaching two million friends on the social networking website Facebook.
Surrey, London (PRUnderground) January 24th, 2012
If you are a fan of the popular internet social networking website Facebook, and the German manufacturer of luxury cars for sale Porsche AG, then you will possibly have heard about the company's celebration of reaching 2 million Facebook friends.
To mark this milestone in the company's Facebook presence, Porsche decided to produce a one-off 'Cayman S' model. This special Cayman was initially finished in white paintwork, and then the Facebook friends' profile faces were digitally added to the finished surface.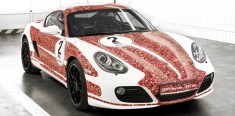 The Facebook friend's images had been tinted in the colour red: this was to create an overall paint scheme that has been designed to replicate and pay homage to the race livery of the original Porsche 917 K, which first achieved overall victory at the Le Mans 24 hour race in 1970.
Added detail included a number plate which reads '100% Porsche, 100% you', to show the respect and appreciation of their Facebook fans around the world.
If you happen to be visiting Germany soon, you can view this completely unique Facebook Porsche Cayman S within the Porsche Museum at the company's headquarters in Stuttgart, Germany.
Alternatively, and if you don't happen to be passing Stuttgart in the near future, you could always choose to visit Romans International in the UK and see our range of prestigious used Porsche. We are one of the UK's top Porsche specialists, and can offer you an extensive range, along with unparalleled service, when purchasing a luxury car.
Editors Notes:
Romans International is just one of a handful of dealers within Europe who possess an extensive and often exclusive range of the most desirable and exceptional models available: Aston Martin, Bentley, Bugatti, Ferrari, Lamborghini Mercedes, Porsche and Land Rover, along with their reputation which is second to none.
All Romans International's advertised range is physical stock, which gives them flexibility to satisfy the customer needs, when making a purchase. They can make the whole process easy and efficient, as customers can literally arrange a viewing for their desired vehicle, arrange payment and simply drive it away there and then.
So if you would like to talk to Romans International about any of their luxury sports cars that they currently have in stock, or even possibly about any particular car brands or models they could source for you, then do not hesitate to them today – 0844 249 5186 for further details.
About